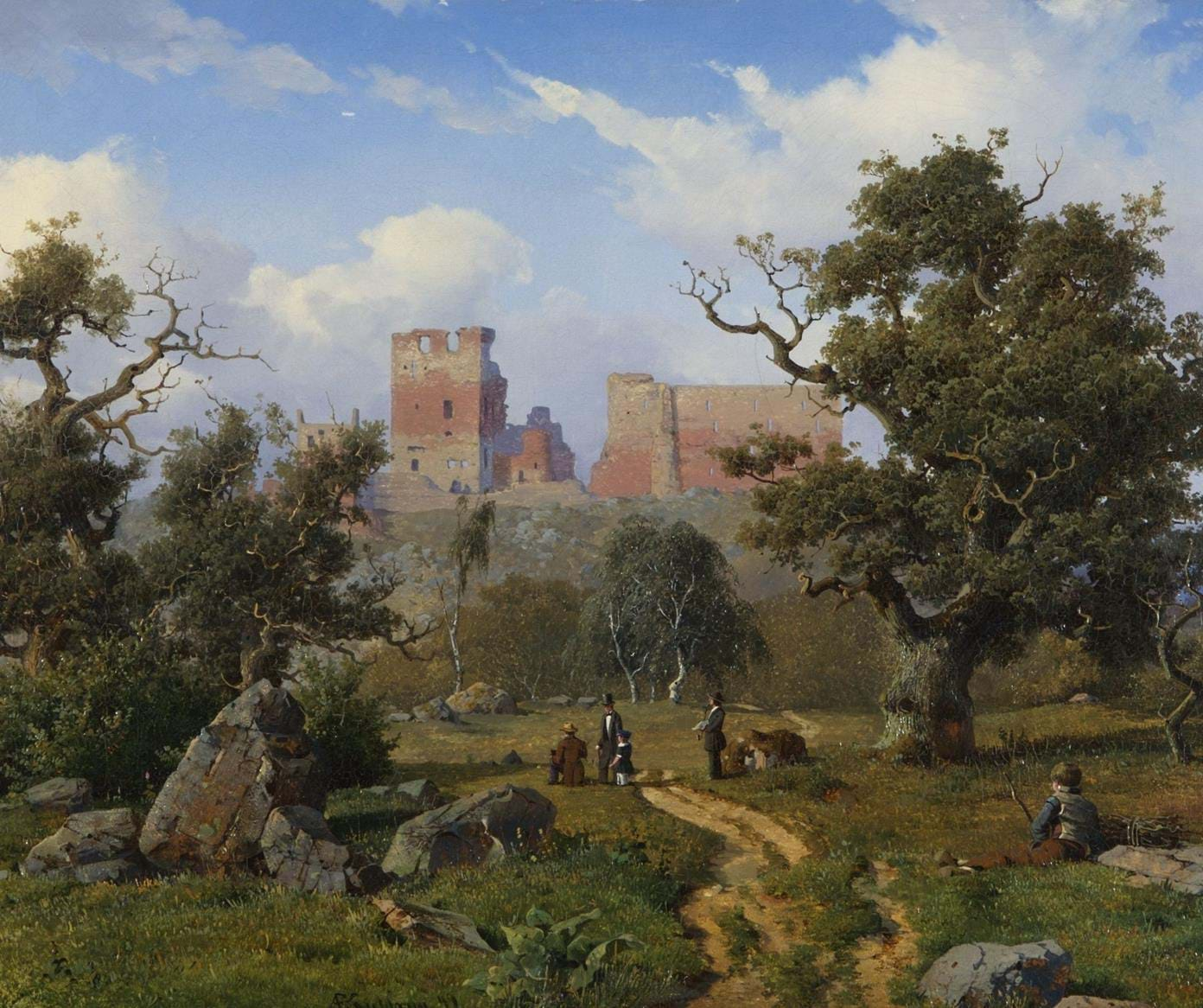 LANDSCAPE PAINTING ON BORNHOLM
Bornholm was not known whether as a motif in Danish art or as a destination for visual artists before the 19th century.
One of the explanations is that it was simply difficult to get to the island because there was no regular ferry service.
Nevertheless, a group of the lesser known students from the Academy of Fine Arts found their way to Bornholm.
In 1838 Vilhelm Petersen (1812-1880) painted View of the parish of Østerlarsker at about the same time as Christian Købke (1810-1848) was on the island.
Købke, however, did not produce any works but pencil sketches during the time spend on Bornholm.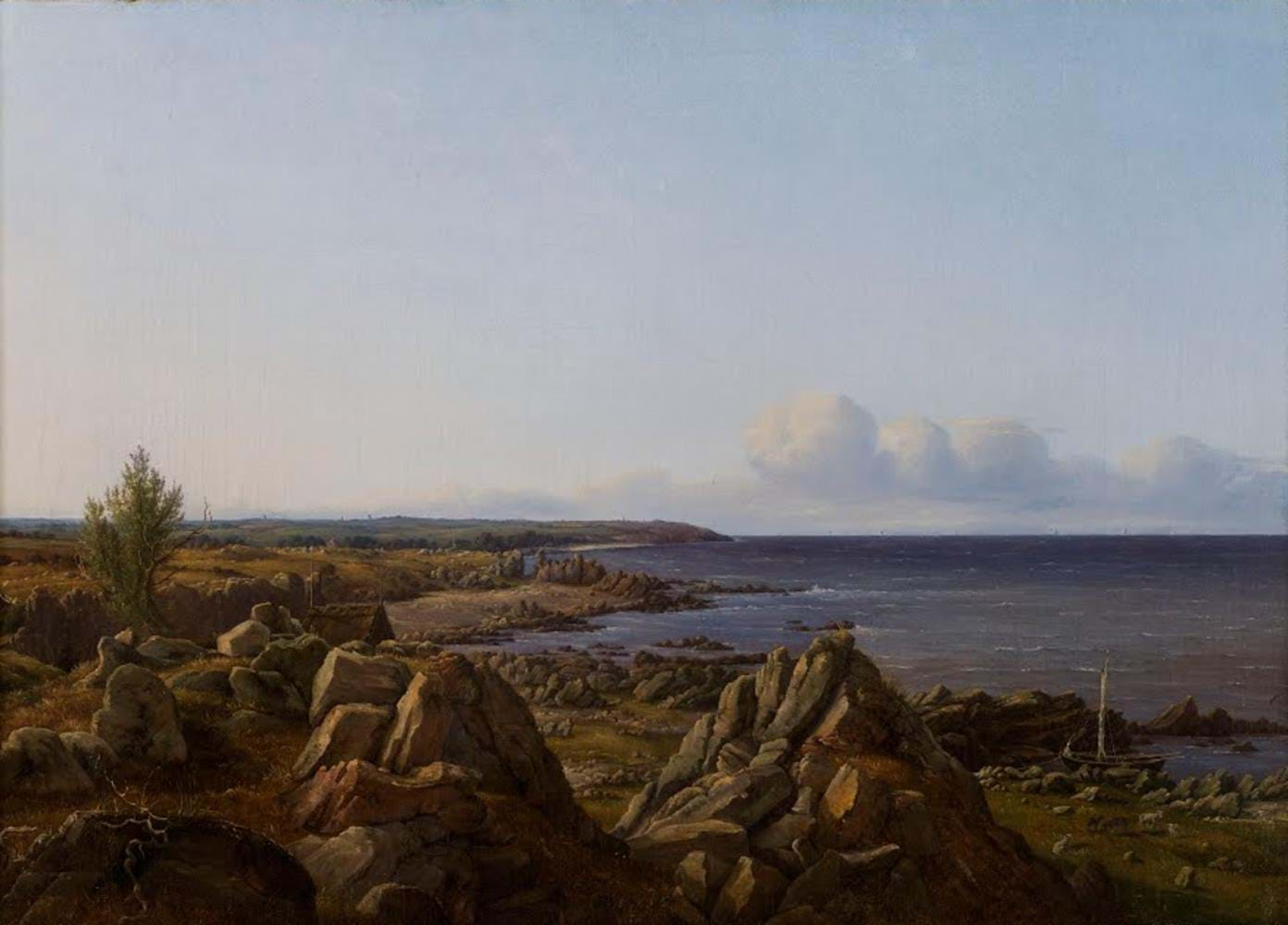 GERMAN LANDSCAPE TRADITION
It was not up until the middle of the 19th century before a small number of artists began opening their eyes to Bornholm's monumental nature.
During this period, the Danish art form was strongly influenced by the German Sturm und Drang philosophy and thus characterized by dramatic mountain romance and mysticism.
Nature was portrayed emphasis on the picturesque elements inspired by similar motifs from Germany, Switzerland and Tyrol.
Especially Anton Kieldrup (1827-1869) and Viggo Fauerholdt (1832-1883) were particularly fond of the new German inspired landscape tradition.
They chose to ignore the Danish art historian N. L. Høyen's warnings about the dangerous German tendencies in the visual arts. Instead they painted with a strong connection to the painters in Düsseldorf and Munich.
  
It is this connection Anton Kieldrup's several romantic landscapes on Bornholm confirm.
Viggo Fauerholdt more often found his motifs by and on the sea in maritime settings and in depictions of the Bornholm rocky coast.
Their motifs on Bornholm corresponded with the period's demands for the national touch and the plein air painting.
Fauerholdt maintained a light tone in his paintings inspired by Carl Ludvig Bille (1815-1898), and, like Kieldrup, Fauerholdt chose in 1865 to travel to Düsseldorf, where he remained until his death.
Johannes Herman Brandt (1850-1926), better known as 'Bølgebrandt', painted Bornholm's rocky shores in the same national romantic style as Georg Emil Libert (1820-1908).
They were both intrigued by the magnificent nature of Bornholm, and Libert has since had one of the rocks at the Sanctuary Rocks named after him.
Ferdinand Richardt (1819-1895) was also inspired by the contemporary German landscape tradition and the Düsseldorf School. However, Richardt ended up as a landscape painter in the United States.
NATURALISTIC LANDSCAPES
Along with Vilhelm Kyhn (1819-1903) a new landscape tradition was born.
Kyhn replaced the German tendencies in favor of a more naturalistic landscape painting rooted in the study of nature and the plein air painting.
Kyhn made his debut at Charlottenborg in 1843 with a motif from the Sanctuary Rocks only 100m from Bornholm Art Museum, and he painted a number of pictures on Bornholm.